Our Consept
【Company Idea and Visions】
We, Suzuki Enterprise Co., Ltd. (SEC) has been contributing to the cost saving of Steel and Civil Engineering oriented products for a half century, mainly in the East Asia. And, keep doing our best in providing both high security & quality and cost savings in the East Asian Civil Engineering and Infrastructures.
While, in Japan and other developed countries in Asia, facing with the recent civil engineers/workers decreasing caused by the low birth ratio and population decline, it would be more difficult maintain of the given old and new infrastructures and construction structures. Therefore, now we are confronting with the issues of high personnel expenses and infrastructure costs itself.
To solve the issue of "Antinomy-Improving the Safety and Cost Saving" simultaneously, while considering long time, we are now convinced that after all it is nothing but "Innovation based on the Human Free Will ". For pursuing of one of them, we had just started "IoT (Internet of Things)" business recently (See the details at the page of "IoT TOP"). Our IoT business is major instruments to solve such antinomy issues. This is not the end but only measures to solve it to support our engineers and workers while dramatically reducing the time consuming and costs. At the bottom line, our developing IoT system shall be help mostly to improve safety and cost saving in each working cites.
Furthermore, we can say Japanese engineers and supervisors related to Civil Engineering and Social Infrastructure are "Treasures" not only in Japan but also in entire Asia which requires social infrastructure rapidly. Soon we reorganize such Japanese and Korean civil engineers and, supervisors and technicians, then establish the "Platform" or "Business Eco System" with our Products and IoT business to contribute to the Asian and World Social Infrastructure while providing "Highest Safety and Cost Savings" simultaneously.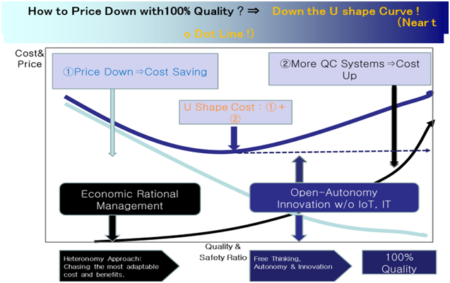 Refer) Keio Univ., Business & Commerce Faculty, Pref., Kikuzawa, Kenshu (2017) "Absurdity of Organization", Chuo-Bunko.
【Idea】
 Providing "Highest Safety and Cost Savings" in Asian Social Infrastructure
【Vision】 1 Based on Human Free Will and Innovation, Providing Highest Safety and Cost Saving simultaneously. 2 Widely reorganize Asian Personnel Resources and establish the Platform to contribute entire Asian Social Infrastructure. 3 Getting together with other Partner worldwide to educate the future engineers and distribute technology.

  Back To Top